23rd Sunday in Ordinary Time September 8th 2019
Dark Red Book page 133
Nothing is what it seems…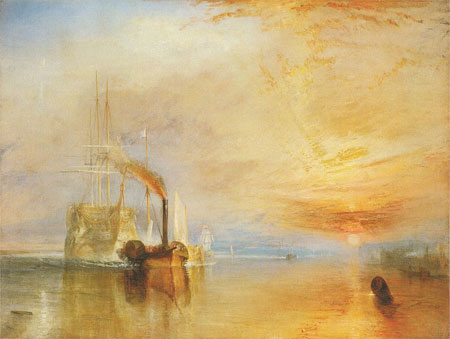 Following a survey on the BBC Radio4 TODAY programme, in 2005 "The Fighting Temeraire" was voted Britain's best loved painting. Created in 1838 by Joseph Turner it remains in the National Gallery. Although Turner is classed with the Romantics, his artistic technique anticipates the later Impressionists. He painted those mysterious and evocative landscapes often featuring industrial or historical remains to capture the passing of time. Constructed in 1798, the Temeraire was a distinguished vessel. It served alongside HMS Victory and came to her rescue at the battle of Trafalgar. It was one of the last surviving ships used by Lord Nelson. After various actions, in 1813 it returned to the UK for a refit that never happened. The world had changed in a short time. Great mechanical iron vessels were now the order of the day. By 1819 Temeraire was reduced to use as a prison ship in Somerset and was soon less than a hulk. 
Nothing is what it seems: Her last voyage (1838) was to be towed up the Thames and broken up at Rotherhithe. In the picture, she is somewhere downstream from Woolwich. The sun is setting on the horizon, proclaiming that her day is done. Her silver frame gives an eerie feeling that she is a skeleton of her former self while an evil, demonic looking, paddle driven, steam tug leads her mercilessly to final destruction. But, how can the sun be setting as we look towards the Thames estuary facing east? Her masts, cannons and all the components of the super-structure had already been stripped for salvage at Sheerness. In reality it took two iron tugs to drag her to the Thames basin where she was finally broken to retrieve every last scrap of serviceable timber, lead, copper and iron. And what is the significance of all that to us as we endeavour to live the Christian life in Greenwich? Well for one thing she would have passed this way. Being so respectful of Naval Services, Fr North would have been present amidst the crowds lining the shoreline of the river. (NB no embankments at this time). Like every generation, Fr North would have believed that he lived in the modern age. Turner died in 1851, the year OLSS was consecrated. That was the decade that marked a watershed in British intellectual and technological progress and the crescendo of such great lives as; Pugin, Brunel, Darwin, Dickens, Newman, Bazalgette etc. Fr North must have marvelled to think that such a magnificent ship was already redundant within his lifetime. 
Since the time of the Apostles the Church has been identified with "Peter's Boat" on the sea of Galilee. Various Church Fathers such as Augustine & Gregory also likened the church to Noah's Ark: A safe vessel carrying weary souls through the storms of life towards salvation. Secular powers would like to see the remains of the church broken up just like the Temeraire. But consider this: The sun is rising not setting! Christians must rise to meet the challenges of the modern world with a critical under-standing of the gospel while armed with intellectual tools that are fit for purpose. That is why St JH Newman taught us that the faith doesn't change, IT DEVELOPS! "Go and do thou likewise"!
Fr Kevin
Image via Biography Online
Anniversaries 
Sr Kieran O'Riordan OSU, John M, Rita O, James W, Ken S, Lena P, Sr Marie Therese McGough OSU, Frederick H, Mary D, John R, Krystyna G, Martin H, John B, Paul C, Glenn G, Jean B
May they Rest in Peace 
Parish Fundraising Quiz Night! 
The annual Parish Quiz Night will be on Friday, 11th Oct at 7.15pm in St Ursula's school dining hall. Enter as a team of 6 to 8 people or as an individual, a couple or a small group and we will add you to others to make up a team. It doesn't matter if you're no good at quizzes – this is been a lot of fun in recent years and a chance to socialise. There will be a cash bar and lots of prizes to be won! 
Tickets are £5 per person and are only on sale in advance. Tickets will be on sale after most weekend Masses at OLSS & St Joseph's during September and can also be reserved via email to [email protected] 
Thank You for your Offering 
OLSS Sept. 1st TBC 
St Josephs TBC 
Baptism Preparation This Wednesday 7.00pm 
If you are seeking the Baptism of a Child either at OLSS OR St Joseph the next meeting will be 7.00pm This Wednesday 11th in the Parish Room at OLSS when we look at the responsibilities of parents and Godparents & consider carefully the diary for both churches. 
Southwark Spirituality Commission
Saturday 9th November 2019 10.30-3.30pm
St John Fisher Church Bexley DA5 1AP 
'Your Word is Life': a day of prayer using scripture to awaken us to the presence of God. Whether you are seeking to enhance your own prayer life or enable others in your congregation or community, this one-day workshop will equip you with a range of resources. Limited places, Call: 01322 524813 www.southwarkdsc.org.uk 
Greenwich Ursuline Alumni (GUA) 
Annual reunion Saturday, 21st September. 
All past pupils are welcome. To confirm attendance & for security & catering purposes please email: [email protected] 
Further details will be provided. 
GUA was founded in 1909. Currently we have over 800 members on our database (ages ranging from 20 to 96 years!) This is a great network for rekindling old friendships and has also proven useful for business contacts. If any of your family or friends are GoGs (Greenwich old Girls) please let them know! 
St Ursula's School Staff Vacancies: 
Teacher of Computer Science
Required for AS SOON AS POSSIBLE to cover a maternity leave. 
Teacher of Drama
With ability to teach English Required for January 2020. 
Mums Tots Babies etc 
Welcome again at the Ursuline Convent 66 Crooms Hill this Thursday at 10.15 Contact: Sr Antonia [email protected] 
First Steps Parenting Project 
RE: last weeks Newsletter 22nd Sunday See http://bit.ly/2ZsY8T4 Speak to Sam or Caz at the 9AM Sunday Mass
MASS CALENDAR FOR 7th – 15th SEPTEMBER 2019 2nd Col's Home Mission 
Saturday 7th Holy Baptism St. Joseph's 12.30pm 
Mass OLSS 6.00pm Int: Hynes Family (RiP) 
Sunday 8th Mass OLSS 9.00 Int: Carlo B (RiP 24th Ann) 
23rd Sunday in Mass St J's 10.00 Int: Mr Costello (WB) 
Ordinary Time Mass OLSS 11.00 Int: Dan & Kathleen B (RiP) Inc. Baptism of Gabriel & Lea 
Monday 9th No Mass on Monday 
Tuesday 10th Mass OLSS 9.30 Int: Parish & People (Lieu of Sunday) 
Mass St J's 7.00 Int: Maria B (RiP 5th Ann) 
Wednesday 11th Mass OLSS 9.30 Int: Thomas T (WB) 
Thursday 12th Mass OLSS 9.30 Int: 
Mass St J's 11.00 Int: In Thg Ajoyi & Odiase family 
Friday 13th Mass OLSS 9.30 Int: Margaret M (RiP from 3rd 21st Ann) 
Saturday 14th Holy Baptism 12.30 OLSS Emily-Mae, Aoife Isabel, Sonnie-Lewis 
Mass OLSS 6.00pm Int: Dan & Kathleen B (RiP) 
24th Sunday 15th Mass OLSS 9.00 Int: Mark S 
"Home Mission" Mass St J's 10.00 Int: Mary A (RiP) 
Mass OLSS 11.00 Int: Michael Egan (Ints) 
September 8th Traditionally commemorates the Birthday of the Blessed Virgin Mary. Falling on Sunday this year it gives way to the normal Sunday observance. The story of Mary's Nativity is known only from a 2nd century apocryphal romance (The Pre-Gospel of St James) for this reason the Latin Church was slow to adopt this festival. The earliest evidence comes from a 6thC hymn and may have originated somewhere in Syria or Palestine. After the Council of Ephesus (431) the cult of the Mother of God was greatly intensified, especially in Syria. The first liturgical celebration of her Nativity is connected with the 6thC dedication of the Basilica Sanctae Mariae ubi nata est, in Jerusalem. The church built here in the 5thC, was erected on the spot known as the shepherd's pool and thought to have been the home of Mary's parents. Since the 7thC, the feast has been shared with the Byzantine Church as the Birth of the Blessed Virgin Mary. 
Post expires at 8:10pm on Saturday October 12th, 2019