Fifth Sunday in Ordinary Time Sunday 4th February 2018
Teal Book Page 134
Dear Friends,
This Sunday at St Joseph's Church at 6.00pm
there will be a lovely evening of sacred music with a glass of wine and food to share at the end. This celebration marks the:
Feast of the Presentation
(February 2nd) closes the Christmas season before the beginning of Lent.
Come as you are for a gentle evening of reflection melodies and prayer. Petra and her friends have prepared a lovely programme of and have been rehearsing hard. If you are able bring some food or cake or biscuits or a bottle of wine and we will put it all together with Fr Kevin's twice in a lifetime fantastic sausage casserole. Don't worry unnecessarily about what to bring, come as you are and leave a simple offering just like Mary and Joseph. During the evening we will also dedicate the Image of Our Ladye of Fatyma that has recently been installed. The Fatyma Rosary Devotional group continues to meet every Tuesday after the 7.00pm Mass at St Joseph's.
The feast of the Presentation is sometimes called Candlemass. It commemorates the events of Luke Ch22v22-40. Conforming with Jewish custom Mary and Joseph made the pilgrimage to the ancient Temple in Jerusalem. They offered a simple sacrifice in thanksgiving for the gift of their child Jesus. Although it is not in the scriptures, according to a widespread tradition, Mary herself is believed to have been raised as a sacred child within the temple community just like the boy child Samuel is described 1000 years before in the Old Testament. If this is true it must have been a delicate moment when Mary returned to that sacred place where she was once well known, and now with a child of her own: Indeed a child that was conceived in very uncertain circumstances.
Perhaps that is why Simeon and Anna were drawn to the little family at that very moment only to find that their lives were suddenly illuminated in an unexpected way. Being of great age they must have remembered Mary as a sacred virgin, they must have gazed in wonder at the child that she now dared to present. The temple was a sacred place. Remaining for a thousand years and originally constructed by King Solomon following the directions of King David, it was twice thrown down and reconstructed but finally destroyed by the Romans in AD 70.
This is why the Temple Mount remains so sacred to Jewish people today. The wailing wall is the last fragment of the original stones that are still standing. In the course of his lifetime Jesus made several visits to the Temple. The Gospels record the disciples marvelling at the size of the stonework. Jesus anticipated the imminent destruction. He said that he would raise up another temple, one not made with hands, "but he was speaking of his own body". That is why we are called "Living Stones". Building up the Body of Christ in our own generation.
God Bless
Fr Kevin
Double Room to Let – A lady called Sara is offering a double room to let in a furnished house with 3 bedrooms & 2 Bathrooms. See details in the newsletter in the church.
Anniversaries 
Patrick B, Katie R, Anne M, Patrick C, Edward E, William F, Kathleen J, Patricia G, Jerome W
May they Rest in Peace 
Ash Wednesday will fall on February 14th
Easter comes early this year, with Good Friday on March 30th and Easter Sunday on April 1st.
A Day of Prayer 
In conjunction with the appeal to promote Eucharistic Adoration we will have a Day of Prayer on the First Friday of March (March 2nd). The Blessed Sacrament will be exposed at OLSS throughout the day after the 9.30 am Mass. It is very important that the sacrament is never left unattended. Will you come and watch and pray for 30 minutes or perhaps an hour on that day? We will arrange for a rota that you can sign at the beginning of Lent.
Forthcoming Funerals Kathleen RIP 
"Nanny Kath" lived at Davern Close on the Caltock Estate. She died at Lewisham Hospital on 13th January. The Funeral is AT ST JOSEPH Church at 9.30 am on Friday 9th February. Cremation at Hither Green.
Barbara RIP 
The Funeral of Barbara is arranged at OLSS also on Friday 9th February at 11.30 am. Burial at Grove Park. (NB Fr Michael Branch will officiate)
Virginia and Alex are relaunching their great café as the AMBER TEA HOUSE. Come and make new friends on Saturday 17th from 2.00pm at 45 Deptford High Street.
Mums, Dads, Nans, Toddlers & Babies etc 
Welcome again at the Ursuline Convent 66 Crooms Hill this Thursday from 2.30
If you are at home with a little child don't be on your own turn up or see contact details in the newsletter in the church
OLSS Big Church Clean 
After 9.30 Mass on Thursday 15th February (Day after Ash Wednesday) Can you come and help at this time?
Parish Rooms at OLSS 
Work has started to refit and refurbish the parish (basement) rooms at OLSS including floors, toilets, ceilings, lighting and kitchen. This is likely to take us into the beginning of March. Apologies for the disruption. The Children's Liturgy group will meet in the Ursuline Convent Chapel for the foreseeable future with thanks to the Sisters. We will ensure that at least one toilet remains useable during public services.
Thankyou for your Offertory 21st& 28th
OLSS 21st £747 28th £636 Px/Ch £167 Cafod £12.88
St J's 21st £404 28th 28th £310 R/J £58
MASS CALENDAR FOR 3rd – 11th FEBRUARY 2018 
Saturday 3rd Mass OLSS 6.00 Int: Maureen D & Fr Philip Dayer (RiP)
Sunday 4th Mass OLSS 9.00 Int: Parish & People
Fifth Sunday in Mass St J's 10.00 Int: Mary O (Thg)
Ordinary Time Mass OLSS 11.00 Int: Manuel L & Inacia M (RiP)
2nd collection at all Masses this weekend for the poor parishes of the Diocese
Monday 5th No Mass on Monday
Tuesday 6th Mass OLSS 9.30 Int: Finn & Chad B (WB)
Mass St J's 7.00 Int: Parish & People
Wednesday 7th Mass OLSS 9.30 Int: Humphrey M (RiP 1 month)
Thursday 8th Mass OLSS 9.30 Int: Parish & People
Mums & Tots Mass St J's 11.00 Int: Annie H (RiP)
Friday 9th Mass OLSS 9.30 Int: Sr Charlotte Berghaus OP. (RiP)
St Scholastica 10th Mass OLSS 6.00 Int: Sr Concilia Renner O.P. (RiP)
Sunday 11th Mass OLSS 9.00 Int: Peter R (WB)
Sixth Sunday in Mass St J's 10.00 Int: Madeleine E (RiP)
Ordinary Time Mass OLSS 11.00 Int: Rachel R (RiP 6th Ann)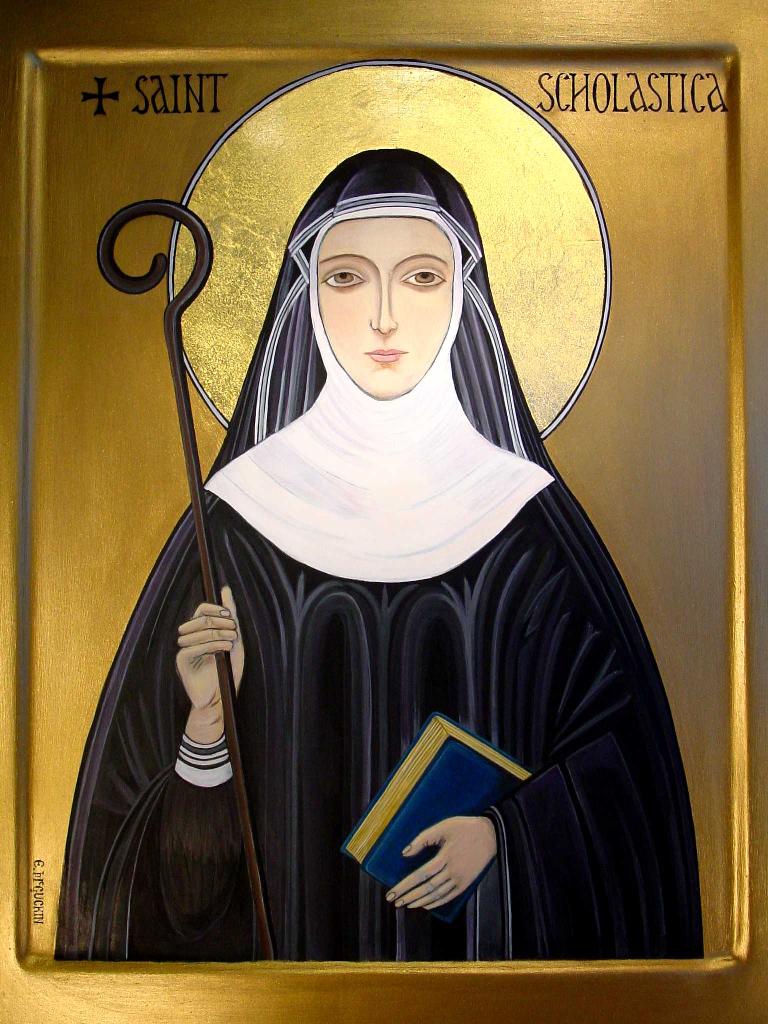 St Scholastica (c480-543 Saturday) believed to be the twin sister of St Benedict she is remembered as the foundress of the women's order of Benedictines and is also known as Patron Saint of Convulsive Children. It is likely that she lived in a hermitage with 1or2 women in a cluster of houses at the base of Mt Cassino where an ancient church is named after her. One day she had supper with her brother at his own monastery where they continued in conversation. Perhaps sensing that the time of her death was approaching, Scholastica asked him to stay with her. Refusing to break his own Rule, Benedict insisted that he needed to return to his cell. Scholastica closed her hands in prayer. A wild storm erupted. Benedict asked, "What have you done?", she replied, "I asked you and you would not listen; so, I asked my God and he did listen. So now go off, if you can, leave me and return to your monastery." Benedict was unable to return to his monastery, and they spent the night in discussion. According to Gregory's Dialogues, three days later, he saw his sister's soul leaving the earth and ascending to heaven in the form of a shining white dove. Benedict had her body brought to his monastery, where he laid it in the tomb which he had prepared for himself.
Image via Wikia
Post expires at 5:53am on Sunday March 11th, 2018