Advent Sunday 3rd December 2017
Blue Book Page 158
Ok a few people have suggested that lately the Newsletter has been getting a little bit too historical and highbrow. What with Reginald Pole and Acts of Supremacy and such like perhaps we need to get back to simple thoughts that will engage people appropriately for the season i.e. Advent: So, what about those magazines that you find in the waiting room at the dentist?
You know, the ones that get really interesting just at the very moment that the receptionist summons you to your appointment "in the chair" and you really don't want to leave that magazine behind, so secretly you hide it in your bag even though it is already more than three years old and the dentist would give it to you, if only you asked, but you just feel too embarrassed? "Hello" "Ok" You know the magazines: "Women's Own" or is it "Realm" "Heat" "Vogue" etc. Let's be honest these are not "Men's Magazines" but they are most frequently read in waiting rooms by men who are mystified by the contents and cannot put them down. Apart from the Health Column, the Problem Page and recipes for cakes that don't use butter, jam, eggs, milk, flour or even Marge (Proops? Pardon me). There's all that advice for so many things that you never knew that you needed advice for, but suddenly you realise you do.
At this time of the year you get helpful stuff such as "Tips for making a magical Christmas". Some elegant mumsy type like Kirsty Allsop (when she's not selling overpriced property or appearing on Question Time as a quasi-politician) comes up with ideas that are "just perfect" for December, like putting cinnamon sticks down the back of your radiators with just a hint of lemon  and egg, or perhaps tie a Tartan Bow on the cat and maybe your teenage children to make them that little bit special for when they go out singing Ye Olde Yuletide Songs to the neighbours: "Deck the Halls with Balls of Holy" and all that, Micky Most Mouse style?
Are you still with me? (I might send this script to Alexei Sayle). Please do not get confused: Do not put the cat down the back of the radiator,… or the kids! (there again cinnamon for smelly kids should be "OK"). Yes it's time to prepare for Christmas. This year you don't even get four weeks because the 4th Sunday of Advent is Christmas Eve so in reality there's only three!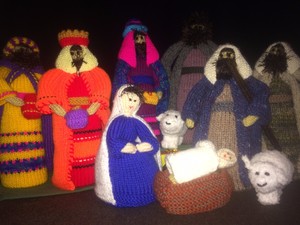 At least Maeve has been doing her thing! She has KNITTED CHRISTMAS! So much for the baby Jesus lying on a bed of straw he's got a blanket, his own pillow and a woolly hat. Now we had a discussion about this (after Maeve got taken away). Should we raffle it, should we sell it or should we present it to some cultured person who will appreciate this extraordinary sacred item and treasure it as the devotional masterpiece that it clearly is? So we are going to put it on Ebay and auction it in aid of the Manna Centre – The Homeless charity in SE London that we support every year.
Go to Ebay.co.uk and search for Knitted Christmas Nativity. Apparently, Joseph's beard is based on Fr Kevin's appearance in the 70's (I was 12!). Even the sheep are made of wool but then, that would be actually be normal!
There again spare a thought for Maeve's husband. Maeve is going to knit him a Christmas dinner (when she gets out). Now tell me you don't want highbrow… Intelligent reflections will be resumed next week.
God Bless
Fr K
Abp Peter's Pastoral letter for Advent click here
Please Remember 
Alice Now at home.
Irene Now at home
David St Christopher's Hospice
Pauline St Thomas Hospital
Helen a young wife who is gravely ill
Allan Now at home 
Anniversaries 
Mary B, Joseph H, Nora M, Edith M, Joseph D, Patrick O, Deirdre D, David H, James K
May they Rest in Peace 
Advent Sunday Ecumenical Carols 
On Advent Sunday it is a long standing tradition to join our friends at St Alphege CofE Church for their Advent Carol service usually with a reception following.
Do come this Sunday at 6.30pm
Advent Manna Centre Collection 
During Advent & Christmas we appeal for all kinds of preserved foods to give to the Manna Centre. This is a major charity in SE London with Catholic Foundations working with people who are homeless and on the streets. There are collection bins available at both churches.
Preserved food, hats gloves and scarves 
Looking Ahead Christmas Programme 
Christmas Day 2017 falls on a Monday. This is my proposal for Services:
Saturday 23rd Vigil 6.00pm OLSS 
Sunday Morning 24th Christmas Eve: 
9.00am OLSS (No Choir)
10.00am St Joseph
NB NO 11.00 am at OLSS 
The Children's Mass 5.00pm OLSS
Also a Children's Vigil Mass at St Joseph 6.00pm 
Midnight Mass OLSS (With Choir)
(Gather at 11.00pm for start at 11.30)
Christmas Day Morning 
10.00am St Joseph
11.00am OLSS
NB NO 9.00am at OLSS 
Boxing Day Mass St Joseph 7.00pm 
Thankyou for your Offertory Sunday 26th 
OLSS TBC
St J's £333 Cath/Yth £43
Catholic Education 
The Government is making a critical decision on whether to overturn the admissions cap which prevents Catholic Schools from allowing all Catholic pupils to attend. They have acknowledged that this policy discriminates against Catholics and promised to abandon it. Now The Bishops of England & Wales urge us to tell them not to renege on their promise. Look for "Catholic Education" on-line and write to the government urging them to drop their policy which effectively bans the construction of new catholic Schools.
John RiP Requiem Mass 
John & his brother Dennis lived at the same house for more than 85 years and have affectionate childhood memories at OLSS
Thursday 7th Dec' 9:30am (Burial: Eltham)
First Holy Communion Preparation at St Joseph's 
Registration forms are available this week for any children (St Joseph's) who would like to prepare for FHC. The programme starts on 7th January when parents are required to attend the first meeting. Children should be 8 years at the time of FHC or in year 3 at school. Please ask Sr Mary for a form
At OLSS the programme has been running for three weeks already with a nice number of children. They will all be enrolled at the 11.00am Mass next Sunday
Fatima Rosary Group 
This lively group continues with more than 30 people after the 7.00pm Mass on Tuesdays at St Joseph's. Thanks to Rachel and her pals for providing music. St Joseph's is open on Tuesday nights from 6.15 commencing with adoration before Mass.
Abi & the 9.00am girls are planning a
Carol Service at OLSS with PORT! 
6.00pm Sunday 17th Rehearsals:
Monday 4th at 7:30pm
Monday 11th at 7:30pm
Sunday 17th at 3:30pm
Singers also needed for Midnight Mass
CALENDAR 2nd – DECEMBER 2017 
Saturday 2nd Holy Baptism 12.30 OLSS: India, Sadie, Emma 
Mass OLSS 18.00 Int: Alan & Imelda P (RiP)
Sunday 3rd Mass OLSS 9.00 Int: Parish & People
1st Sunday Mass St J's 10.00 Int: Lee & Pru (Thg) Coffee & Cakes after 10.00am at St J's Today 
of Advent Mass OLSS 11.00 Int: Joe C (RiP)
Advent Carol Service tonight 6.30 St Alfege CofE 
St John of Damascus 4th No Mass on Monday
Tuesday 5th Mass OLSS 9.30 Int: Frances D (WB)
Mass St J's 7pm Int: Benefactors FSM Sisters
Wednesday 6th Mass OLSS 9.30 Int: Grace M (RiP)
Thursday 7th Mass OLSS 9.30 John F RiP Requiem Mass (Burial Eltham) 
Mass St J's 11.00 Int:
Immaculate Conception of the Blessed Virgin Mary Mass OLSS 9.30 Int:
Saturday 9th Mass OLSS 18.00 Int: Parish & People
Sunday 10th Mass OLSS 9.00 Int: Alice H (Fauchier RiP)
2nd Sunday Mass St J's 10.00 Int:
of Advent Mass OLSS 11.00 Int: Paddy & Frances C (RiP)
Enrolment of FHC Children OLSS
The Ursuline School Carol Service is Next Sunday 10th at 4.00pm.
Feast of the Immaculate Conception (Friday). Many people misunderstand this celebration. It does not refer to the Virgin Birth but celebrates the conception of Mary in the womb of her own mother (St Anne). It tells us that Mary was born in the normal way but that from the first moment of her conception she was kept free from the inheritance of original sin. "The Blessed Virgin Mary, at the first instant of her conception, by a singular privilege and grace of the Omnipotent God, in virtue of the merits of Jesus Christ, the Saviour of mankind, was preserved immaculate from all stain of original sin, has been revealed by God, and therefore should firmly and constantly be believed by all the faithful. — Pope Pius IX, Ineffabilis Deus Although the doctrine was only formally defined as an article of faith as late as 1854 we find the teaching in antiquity variously taught by prominent church fathers describing the Virgin Mary as "Pre-purified"
Post expires at 5:54pm on Sunday January 7th, 2018